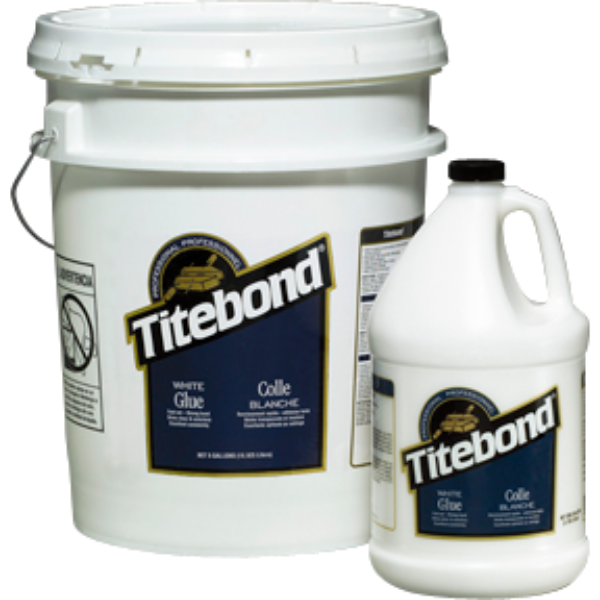 MH 101 Titebond white assembly glue 18.9L
Original price
$76.00
-
Original price
$76.00
Titebond White Glue is an exceptionally strong, economical white glue that sets faster than most other comparable glues. Its versatile formula is ideal for general woodworking applications, as well as many other porous and semi-porous materials. Titebond White Glue provides a strong initial tack and sets fast to reduce clamp time. It provides a translucent glue line, offers excellent sandability and is unaffected by finishes. Titebond White Glue is easy to use, non-toxic and cleans up with water. APPLICATION GUIDELINES
APPLICATION TEMPERATURE: Above 50°F (10°C)
OPEN ASSEMBLY TIME: 5 minutes (70°F./50%RH)
TOTAL ASSEMBLY TIME: 10-15 minutes (70°F./50%RH)
MINIMUM REQUIRED SPREAD : 7 mils (typical)
REQUIRED CLAMPING PRESSURE: Enough to bring joints tightly together (generally, 30-80 psi for HPL, 100-150 psi for softwoods, 125-175 psi for medium woods and 175-250 psi for hardwoods)
METHOD OF APPLICATION: Easily spread with a roller spreader or brush, or may be transferred to plastic bottles for finer gluing applications.
CLEANUP: Damp cloth while glue is wet. Scrape off and sand dried excess.
LIMITATIONS: Titebond White Glue is not intended for exterior use or where moisture is likely. For exterior applications use Titebond III Ultimate Wood Glue or Titebond II Premium Wood Glue. Not for structural or load bearing applications. Do not use when temperature, glue, or materials are below 50°F. Freezing may not affect the function of the product but may cause it to thicken. Agitation should restore product to original form. Read MSDS before use. KEEP FROM FREEZING.