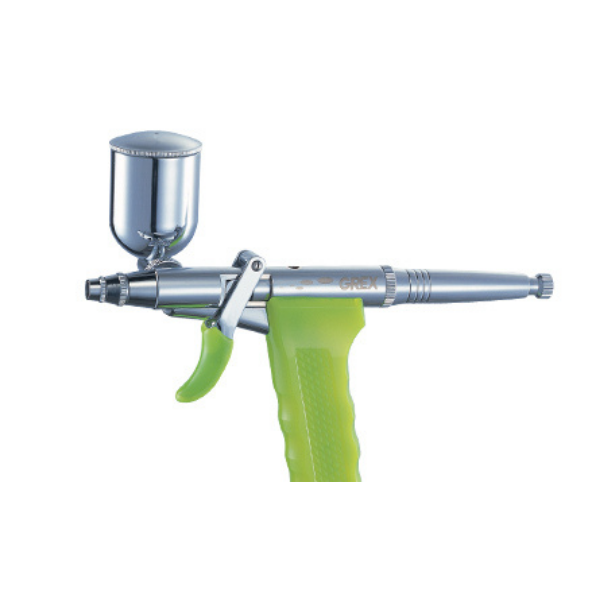 Grex XT Pro air brush pistol handle
Original price
$174.00
-
Original price
$174.00
The Genesis.XT is a prime example of Grex meeting the needs of the artist. Using a gun style trigger, the user pulls the trigger to control both air and paint, providing more comfort during long spraying sessions. From very fine lines to good area coverage, the XT covers a lot of territory.
Features:
- Cutting edge design specifically for precise control of fine detailed work.
- Preset handle for precise paint volume control.
- Solvent proof Teflon seals allows use of any medium.
- 360 degree adjustable side mounted reservoir.
- "Pull" trigger to control both air and paint.
- Includes two reservoirs: 7mL (1/4 oz.) and 15mL (1/2 oz.)
- Internally mixed for improved atomization.
- Precisely machined stainless steel nozzle and needle.
- Larger diameter nozzle threads for improved centering & stronger tightening.
- Durable heavy nickel chrome plated housing.
- Convenient to clean design.
- Short passageway from cup to nozzle for responsive feel.
- Accept oils, gouaches, urethanes, enamels, lacquers, acrylics, dyes, inks, & more.
- Adaptable with major brands of airbrush jars and/or color cups.
Specifications:
Type:
Double Action Pistol Stlyle
Fluid Nozzle:
0.35 mm
Feed Type:
Side Gravity
Fluid Capacity:
7mL (1/4 oz.), 15mL (1/2 oz.)
Spray Width:
Hair Line to 38mm (1.5")
Weight:
180g (6.4 oz.)
Length:
159mm (6.25")
Oper. Pressure:
5 ~ 80psi (0.34 ~ 5.52bar)
Applications:
Illustration, Fine art, Murals, Textile, Automotive, Body art, Woodworks...