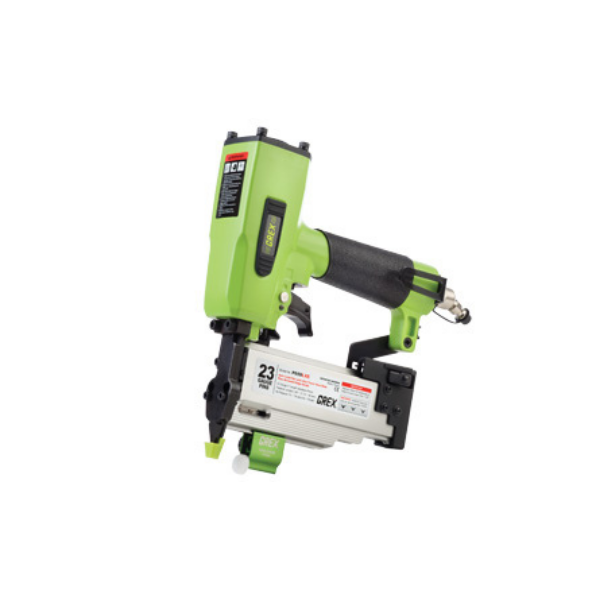 Grex P650LX 2" 23 Gauge Superpinner
Original price
$309.00
-
Original price
$309.00
Fulfilling a higher demand 1) to accommodate smaller compressors; 2) for convenience and safety; and 3) for long headless pins and more hardwood applications we took the best and made it even better.
Announcing the GREX P650LXE, combining a larger motor with an Auto Lock-Out featuring the new patent pending One-Touch Over-Ride, 2" headless pin capability, a steel belt hook, and a contact safety. Adding an "X" (Extra Power) to the P650LXE means: Extra power even with smaller compressors, extra convenience, and most importantly an extra safety. Adding the "L" (Auto Lock-Out) to the GREX P650LXE means: Less rework, less down time, and less tool and project damage. Now drive longer fasteners into harder woods with smaller compressors and a more robust motor. The "E" refers to the new patent pending Edge Guide directly integrated on to the tool.
The adjustable on-board Edge Guide enables you to work faster and with more precision when assembling drawer boxes, cabinets boxes or similar. Drive nails at a consistent distance from a referenced edge. Its easy to adjust, set and operate. When not needed, the Edge Guide can be conveniently directly stored on the tool for convenient access when needed.
The GREX P650LXE Auto Lock-Out features a new patent pending One-Touch Over-Ride. Now tack or finish a project using the 10 "reserve" headless pins with one touch to the One-Touch Over-Ride button.
Auto Lock-Out was added to prevent dry-firing and to assist in difficult, more critical jobs such as overhead crown molding. Dry-firing can cause damage to the tool and might cause damage to an exquisite, expensive project. To prevent dry-firing, the Auto Lock-Out locks the GREX P650LXE with approximately 10 pins remaining in the magazine. High up on a ladder fastening overhead, with a single touch, press the One-Touch Over-Ride button and safely use the remaining pins to tack a project-piece in place.
What's more, the high tolerance precision machined hardened steel driver, Posit-Lock™ nose cover and nose guide assembly aligns and seats the headless pin for optimal drive performance. What is Posit-Lock™ - it's tight tolerance, durability and functionality that reduces jams to a minimum.
The P6 Series comes in seven different designs: P630, P635, P645, P645L, P650, P650L and the P650LXE.
GREX, demanded by Pros, for more than 20 years has helped professionals rise to the top of their trade. Now explore.
Suggested Applications:
Overhead applications, Light wood assembly, Finish and trim work, Molding and decorative trim, Dowel and joint pinning, Mirror and picture frame assembly, Lightweight paneling, External softwood trim, Rattan furniture, Glazing strips, Craft work, Window beading, Display and sign work, Etc...