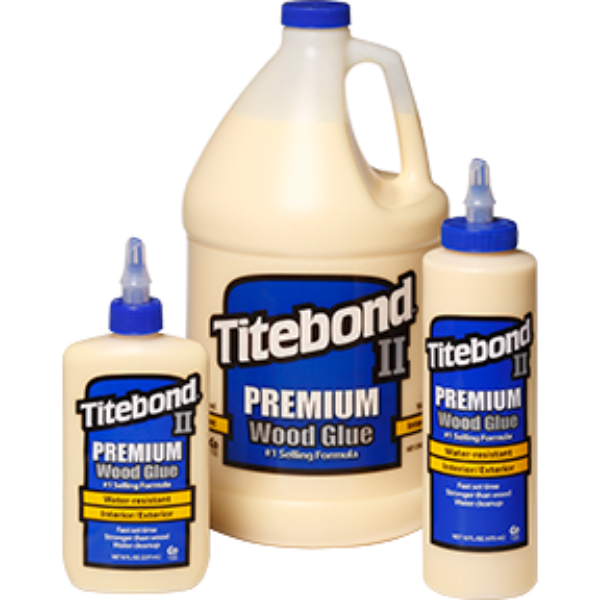 95007 18.9L Titebond 2 weatherproof yellow glue
Original price
$171.00
-
Original price
$171.00
TITEBOND II PREMIUM WOOD GLUE
Titebond II Premium Wood Glue is the only leading brand, one-part wood glue that passes the ANSI Type II water-resistance specification. It is ideal for exterior woodworking projects, including outdoor furniture, birdhouses, mailboxes, planters and picnic tables. Titebond II Premium provides a strong initial tack, fast speed of set, superior strength and excellent sandability. It is FDA approved for indirect food contact (cutting boards) and is ideal for radio frequency (R-F) gluing systems. APPLICATION GUIDELINES
APPLICATION TEMPERATURE:
Above 55°F
OPEN ASSEMBLY TIME:
3-5 minutes (70°F./50%RH)
TOTAL ASSEMBLY TIME:
10-15 minutes (70°F./50%RH)
MINIMUM REQUIRED SPREAD :
Approximately 6 mils or 250 square feet per gallon
REQUIRED CLAMPING PRESSURE:
Enough to bring joints tightly together (generally, 100-150 psi for softwoods, 125-175 psi for medium woods and 175-250 psi for hardwoods)
METHOD OF APPLICATION:
Plastic bottles for fine applications; glue may also be spread with a roller spreader or brush.
CLEANUP:
Damp cloth while glue is wet. Scrape off and sand dried excess.
LIMITATIONS:
Titebond II Premium Wood Glue is not for continuous submersion or for use below the waterline. Not for structural or load bearing applications. Do not use when temperature, glue or materials are below 55°F. Due to low pH, product may cause corrosion on metal surfaces, test product before using where rusting/corrosion may be of concern. Freezing may not affect the function of the product but may cause it to thicken. Agitation should restore product to original form. Because of variances in the surfaces of treated lumber, it is a good idea to test for adhesion. For best results gluing exotic or oily woods, such as Ipe and Teak, please contact our Technical Support Team at 1-800-347-4583. Read MSDS before use. KEEP FROM FREEZING. KEEP OUT OF THE REACH OF CHILDREN.