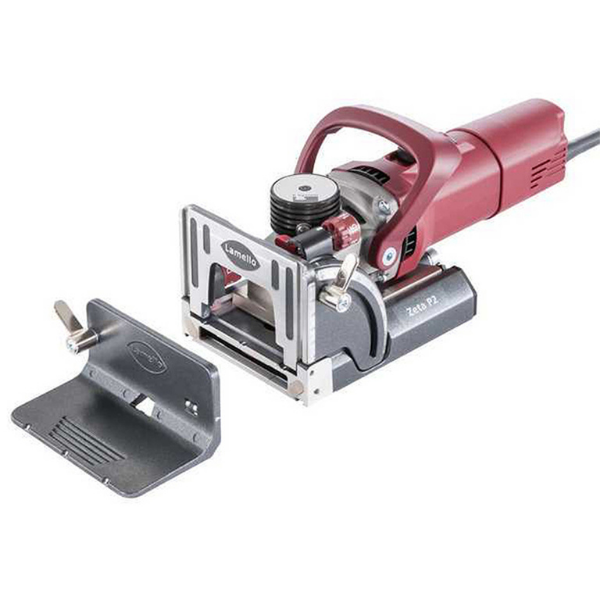 101402USOM Zeta P2 set 120V US P Groove Cutter HW Carbide
Original price
$1,892.00
-
Original price
$1,892.00
The Zeta P2 is the profile biscuit joiner for P-System anchorage, and the Clamex P connector range in particular, and is used to connect wood materials.
The integrated vertical mechanical drive on the cutting spindle of the Zeta P2 is the centre-piece of this profile biscuit joiner. During the cutting process, the vertical mechanical drive automatically performs a vertical movement to create the profile groove. All P-System fittings are then manually inserted into this groove, ensuring a fast form-locking anchorage.
The Zeta P2 can cut P-System grooves for connecting fittings with varying installation depths simply by turning the P-System depth adjuster, thus removing the need to change cutters.
The vertical movement for the profile groove is triggered automatically when the maximum cutting depth is reached and requires just a fraction of a second. The vertical mechanical drive combines process security and reliability with a low-wear, fully mechanical construction.
The Zeta P2 can also be employed as a standard biscuit joiner for original biscuits by simply deactivating the profile groove function and changing to a 4mm blade.
For the fast, form-locking anchorage of all P-System connectors in all angles
The automatic vertical movement creates a profile groove enabling insertion of the connectors by hand
Fast, easy and precise working with the well-known Lamello system
P-System vertical mechanical drive
The vertical mechanical drive consists of highly precise rotary parts supplied by Lamello. It creates an eddy current, driving the stroke movement.
P-System anchorage
Tool-free anchoring of connectors, without adhesive or screws.
P-System depth adjuster
Extremely fast rotation to set different depths for the P-System joining elements: 10, 12, 14, 15 or 18.
Wood elements
Use Zeta P2 for standard wooden biscuits by rotating the P-System depth adjuster to OFF to switch off the vertical mechanical drive. The 7 mm P-System cutter is replaced with the 4 mm groove cutter.
Swivelling front stop with fixed pivot point
Join reliably with the cutter which is in the exact center between to two application surfaces
Multifunctional stop square
In addition to vertical stability resulting from the larger contact area, the stop quare enables variable adjustment of the groove position, 0-50 mm